It's true that social media is still one of the best ways to generate leads for mortgage advisors. Social media has also become an integral part of our daily lives. From family photos to holiday videos, we post every detail online. So, it's not surprising that social media is an excellent way for mortgage advisors to find potential clients and land new business. Read on for tips on how to use social media to increase your lead generation!
Why social media is important
Social media platforms have been around for more than a decade now. Over the years, they've evolved from being just another form of communication to one of the most popular ways to connect with people all over the world. When you think about it, social media is used for everything nowadays—from posting pictures to updating your status on how your day is going.
The social media platforms that mortgage advisors should be thinking about are Facebook, LinkedIn and Instagram. With 1.18 billion active monthly users, Facebook tops all other social media networks in terms of popularity and usage. It's easy to engage with your community in Facebook Groups, meaning you can start to make a name for yourself. This becomes handy and you start to become front of mind when someone is looking in the local area for Mortgage Advisors.
LinkedIn is a great platform to build a personal brand, yes it's a more proffesnial network but the average user has more disposable income, meaning… They are more likely to need your services. Connecting with the right people and engaging with them could become very handy when people are looking for your help.
Instagram, the best place to show and inspire people using content. Showing the possibilities what your home could look like and the homes on the market is a great way to gain business confidence.
The benefits of social media for mortgage advisors
There are many benefits to using social media for mortgage advisors. Here are some:
– It's free and doesn't require an advertising budget.
– You can connect with the people you want to market to.
– It's a direct line of communication with potential clients.
– You can reach a more diverse audience than traditional marketing methods would allow.
– It allows you to more specifically target your ideal customer.
– Your business will be portrayed as more accessible and transparent, which is important in today's society of mistrust towards big corporations.
These are only a few, there are many more! You can also use social media as a search tool to see what people are saying about how to generate leads for Mortgage Advisors. This can be a great way to get an insight what others are doing!
How to use social media for lead generation
The first step is to decide which social media site(s) you would like to use. Each site has unique features and is used by different demographics, so it's important to choose the correct one. For mortgage advisors, LinkedIn and Twitter are the best options as they are most frequented by professionals in your industry. Next, create a profile.
Your profile should include a high-quality photo of yourself and a bio that includes information about your company and what you do. You can also include links to your website and social pages on these sites too!
Next, post content consistently with keywords in mind. This will help you appear in more searches online and result in more traffic to your site/social page. When posting content, make sure it's relevant – don't just post about how beautiful your life is or how great your products are (keep it professional!). Post useful content such as industry news, insights from experts in the field, product reviews/opinions from satisfied customers, etc. It will be most effective if you post at least once per day but no more than 3 times per day: this way you'll keep people coming back for more without annoying them
Conclusion
As a mortgage advisor, social media is one of the best ways to generate leads for your business. It's no surprise that mortgage professionals are now considered some of the most active social media users. With Facebook, LinkedIn, Twitter, and YouTube as just a few of the social networks available, it's easy to see why.
If you're looking for a way to generate leads for your mortgage business, we recommend you start with these five steps:
1. Define your company's mission and goals
2. Create a social media strategy
3. Choose the right channels
4. Engage with your audience
5. Track and analyse your results
Following these steps will help you generate leads and grow your mortgage business through social media!
Now to the experts
We caught up with Sierra Mortgages managing director Dipesh Shah to ask him a few questions about their lead generation strategy.
Dipesh, Thank you for taking the time out of your busy schedule to have a chat. Firstly, How do you add value to your community on social media?
"I use Social Media as a way to interact and connect with my audience. I look to create posts and videos on areas which are relevant and topical; for example the price increases on utilities and how this may impact home owners.
I use my knowledge and experience to provide people with free education, it's a great way to gain people's trust – I have done a series of videos which will help people understand the home buying journey and basics around mortgages. When they have a potential need for my services, I'd like to think they would reach out and I can look to support them."
What social media platforms do you use to generate business?
"In the digital world we live in today, it's important to be across a number of platforms in order to engage with the different demographic clients. I use Facebook, Instagram and Linked In as the main platforms. I haven't quite built up enough courage to sing or dance on TikTok."
In the mortgage social media space, what are you doing to stand out from the competition?
"People want Mortgage Brokers to be honest and trustworthy; in order to do that you need to post regularly and post relevant information.
 However, the most important thing for me is my clients; I advise them as if they were my own family. I get to know my clients on a personal basis, therefore I bring snippets of how I am as an individual on Social Media so my audience knows who I am and what my values are. It helps a lot in building trust as clients already know who I am and are relaxed in our initial meeting."
And finally, what is your favourite part of your job and why?
"My favourite part of the job is the day my client finally gets to realise their dream – whether it's the day they get the keys to their new home and they send me a selfie; or we have refinanced a clients home and saved them money to then do something that they have always wanted.
 I live the journey with the client from start to finish – the best part is living the emotion with them. Our relationship gets to change from an adviser/client relationship to friendship/family in some situations."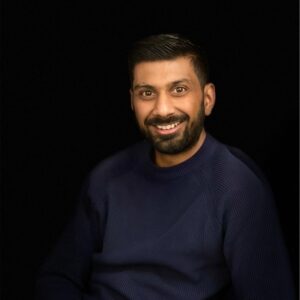 Owner
Sierra Mortgages
If you are struggling with generating business from your social media accounts, contact us today about our social media management packages.
Visit Blogs pages for more interesting information